The annual New Home Ball is held in Orange MA in November, the Saturday before Thanksgiving, and organized by Brad Foster.
New Home Ball 2023
Saturday, November 18, 2023
Dance Leaders: Joanna Reiner Wilkinson & Brad Foster
Evening Music: Karen Axelrod (piano), Eric Martin (violin/viola), Naomi Morse (violin)
Afternoon Music: Jean Monroe (piano), Eleanor Lincoln (violin)
Sound: Dereck Kalish
Schedule: practice session 2:00pm to 4:30pm, evening ball 7:00pm to 10:30pm
Location: Town Hall, 6 Prospect St, Orange MA
Ball Chair: Brad Foster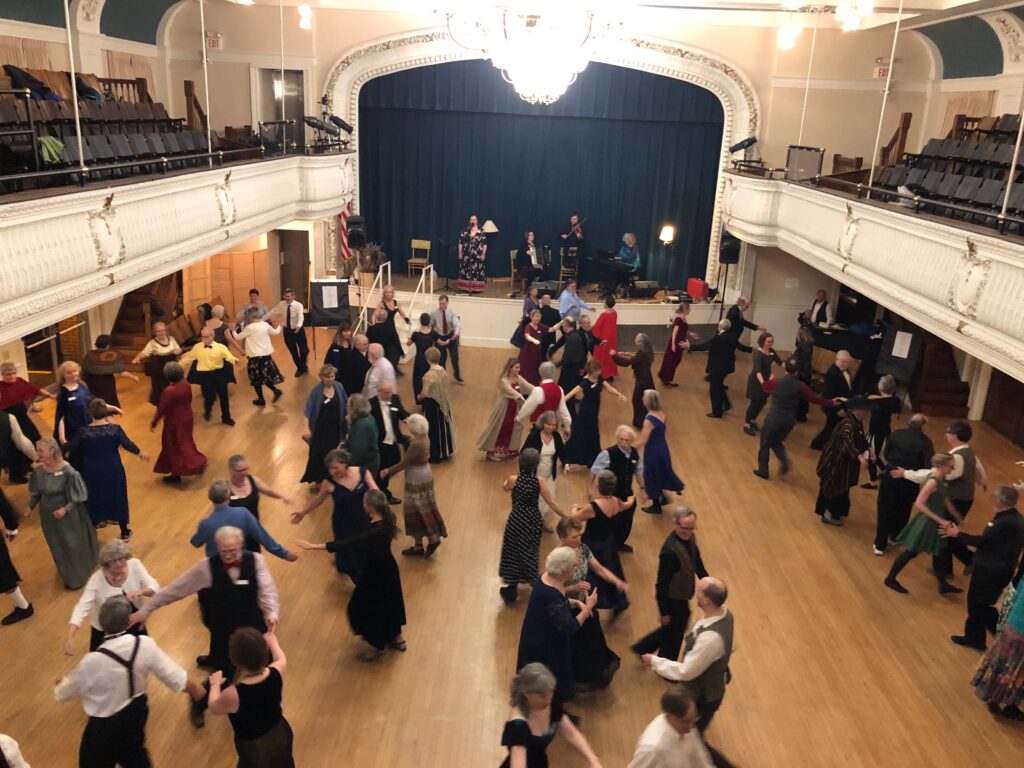 Join us next time?
We'd be happy to add you to the New Home Ball email list, to which we send announcements when registration opens for the year.
Event format
The Ball requires advance registration. We hold an afternoon practice session, take a break for dinner on your own, and return for an evening dance with festive attire encouraged. In the afternoon the dances are taught; in the evening most dances have a walk-through and then are called for the first 3–4 times through the dance. A few very familiar and/or easy dances have a walk-through but no calling. One or more dances are done "for those who know" with no evening talk- or walk-through.
In 2022, our careful Covid protocols included programming a slightly shorter and easier ball with 15 dances. Attendance was limited below the 90 dancers the hall otherwise comfortably holds. We chose to forgo our usual refreshment break, though there were breaks for water and socializing.
Program