The annual New Home Ball is held in Orange MA in November, a Saturday in mid-November, and organized by Brad Foster.
New Home Ball 2023
Saturday, November 18, 2023
Dance Leaders: Joanna Reiner Wilkinson & Brad Foster
Evening Music: Karen Axelrod (piano), Eric Martin (violin/viola), Naomi Morse (violin)
Afternoon Music: Jean Monroe (piano), Eleanor Lincoln (violin)
Sound: Dereck Kalish
Ball Chair: Brad Foster
Schedule: practice session 2:00pm to 4:30pm, evening ball 7:00pm to 10:30pm
Location: Town Hall, 6 Prospect St, Orange MA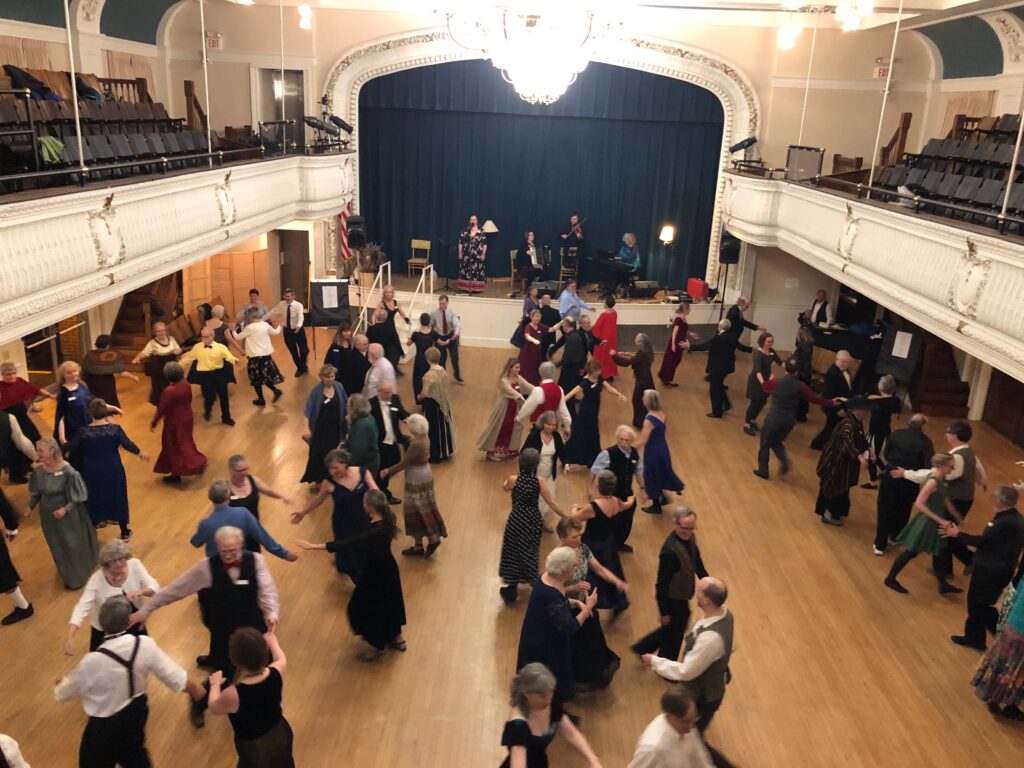 Registration
Pre-registration required. $40 for Ball includes afternoon practice session. Additional donations greatly appreciated.
[Further details below]
Join us next time?
Registration is closed for 2023. We'd be happy to add you to the New Home Ball email list, to which we send announcements when registration opens for the year.
Event format
The Ball requires advance registration. We hold an afternoon practice session, take a break for dinner on your own, and return for an evening dance with festive attire encouraged. In the afternoon the dances are taught; in the evening most dances have a walk-through; around half will also be prompted during the evening. There will be a few For Those Who Know with no talk-through, walk-through or prompting. A list of all dances, their format for the evening, dance notes, and links to online videos will be sent to all registrants.
Registration
Pre-registration is required; every individual must register separately. Admission is $40 for the Ball and practice together (or any part thereof); there are limited spaces for the afternoon practice only at $20. Additional donations are greatly appreciated.
If you prefer to send a check instead, make it payable to New Home Ball and mail to:
New Home Ball, c/o Brad Foster, 579 W Pelham Rd, Amherst MA 01002.
Covid protocols
Self Evaluation 1: If you don't feel well or have had any Covid or respiratory symptoms within 48 hours of the practice or ball, don't come.
Self Evaluation 2: If you've had or been exposed to Covid within SIX days, don't come.
Testing: Please do a rapid test before arrival, as a second check after self-evaluation.
Masking: Due to the uptick this fall, we require N95 or equivalent masks on the dance floor.
Cancelations: Full refunds will be given for any cancelation due to Covid concerns.
Recap: Neither testing, recent vaccination, nor recent recovery from Covid are adequate to prove you are negative, and we don't want to spread the flu either. Please self-evaluate – that is our first line of defense.
2023 Program
Dance notes and links to dance videos will be sent to all registrants.
| | | | |
| --- | --- | --- | --- |
| | Alice | <video> | [Philippe Callens, Antwerp Antics] |
| | Autumn in Amherst | <video> | [Philippe Callens, Antwerp Antics] |
| | The Bashful Swain | | [rec. D. & H. Kennedy, The CDB New Series (adapted)] |
| | Blythe Company | <video> | [B. Friendly & C. Sackett, Impropriety 5] |
| * | Costumer's Delight | <video> | [Philippe Callens, unpublished] |
| | Mile of Smiles | <video> | [Josephy Pimentel, The Goldcrest Collection] |
| | The Minor Spaniard | <video> | [Jenny Beer, Key to the Cellar] |
| | Moniek's Maggot | | [Philippe Callens, Purcell's Dancing Master] |
| | The Mulberry Garden | <video> | [rec. Cecil Sharp, The Country Dance Book 6 (adapted); The Playford Assembly] |
| | Noisette | <video> | [Philippe Callens, Seasons of Invention] |
| | Old Wife Behind the Fire | <video> | [rec. R. Jackson & G. Fogg, A Choice Collection… Neal; The Playford Assembly] |
| * | Parson's Farewell | <video> | [rec. Cecil Sharp, The Country Dance Book 2; The Playford Ball] |
| | Rebecka Ridinghoode | <video> | [rec. Andrew Shaw; Farnicle Huggy] |
| | Sweet Cream | <video> | [Jenna Simpson, Under the Influence] |
| | A Trip to Tunbridge | <video> | [rec. A. Simons, Kentish Hops; The Playford Ball] |
| | Whiskey Before Dinner | <video> | [Gary Roodman, Odd Calculated Figures] |
* For Those Who Know